Our hair gets its fair share of wear and tear. We wash it, brush it, dye it, straighten it, curl it, pull at it, put all kinds of product in it. Seasons can even greatly effect the health of our hair, as warm summers and exposure to central heating during cold winters often dry it out. Frizz, split ends, hair loss, dullness, and breakage are usually the result, leaving your hair further in need of maintenance. Hair damage is pretty much inevitable, but there are ways that you can reduce this by getting rid of some bad hair habits.
Here's 5 ways you're damaging your hair, without even knowing it!
1. Conditioner Overdose
Using too much conditioner only leaves your hair feeling heavy and greasy. Stop kidding yourself – Greasy isn't the same as soft! Ideally you should only be using a small dollop, focusing it on where your hair needs most hydration. That probably means the ends of your hair, rather than on the scalp.
2. Brushing Wet Hair
Wet hair is way more prone to breakage and tearing than when it's dry. One of the worst things you can do is tug a brush through it, forcing tangles apart. A better alternative is to brush your hair before you shower, and use a wide toothed comb or your fingers to straighten out any large knots while conditioning.  If large knots still remain, use a wide toothed comb to tease them out from the tips of your hair to the root, working your way slowly and gently upwards.
3. Violent Towel Drying 
After showering, don't vigorously rub your hair with a towel—gently blot instead. Blotting will not rough up the cuticle and cause frizz. Blot upwards, working your way from the tips to the roots of your hair.
4. Too Hot To Handle
Whether your hair is fine and thin or coarse and thick will determine the heat at which you style your hair. Luckily, that most straighteners and curling irons come with adjustable temperature settings. Don't crank it to the hottest setting right away! If you're getting the desired results, stay there. If not, gradually turn up the heat until you do. Typically coarse hair requires higher temps than fine hair. And no matter what, always use a heat protector spray or mousse to prevent extensive heat damage and avoid getting split ends! As for those wet-to-dry hot tools intended for use on damp hair? They're a no-go: Never use hot tools on wet hair, it can burn the hair.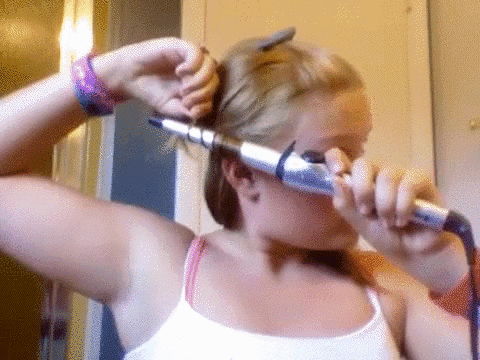 Check out this useful temperature guide by GlamPalm to choose the right heat setting on your heated hair appliances to make sure you're doing it right!
5. Daily Washing
Washing your hair everyday damages it. Generally, you should wash your hair as often as it's needed. Any more, and you risk stripping your hair of its natural, protective oils that keep it shiny and healthy.
Of course, there are exceptions, like when you get rained on, when you need a shower after a night out, or when you've had an intense workout in the gym. In this case, instead of washing your hair thoroughly, rinse the hair with water, scrub your scalp, and condition the ends only.
If you've got hair that becomes oily very quickly, try using a hydrating shampoo and conditioner, like TRESemmé Cleanse & Replenish duo. 
A handy tip is to wear a towel wrap or a shower cap to avoid getting your hair wet when taking a body shower. This cat demonstrates like a pro 😉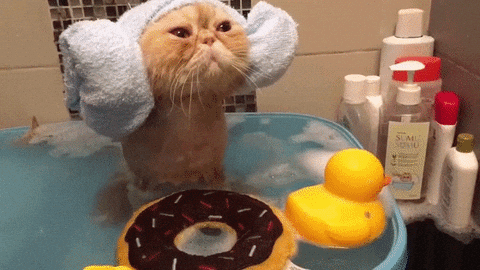 I hope you guys find this post helpful! Let me know what you think and/or if you have any more suggestions on how you might be unknowingly damaging your hair!
That's all for now,
Good luck,
Sinéad.
xx